If you have a large number of blogs and sites to administer, especially when managing a network of blogs in a netlinking strategy, content creation is the sinews of war. Text-based content is quite often the preferred type of content, as it is the one that is the most likely to get referenced. We will talk in a future article about the different possible solutions to generate text-based content. But what about visual content? How to easily find images to illustrate your articles and integrate them seamlessly on your site?
Natural referencing: the weight of words, the impact of pictures
But if there is one type of content that is frequently overlooked, it is visual content. Images. Even if you publish an article mainly for search engines, inserting an image is essential. Images themselves can be referenced by search engines. Google Image remains an important lever of traffic generation for many sites and blogs. As long as you optimize the image file name, title, description and possibly the caption, without forgetting to optimize its size, this file format can play an important role in your SEO strategy.
Ok, but how do you find an image, a picture or any imagery that will properly illustrate your article without spending hours searching for it on Google, or without having to create your own visual or take your own picture? Find our tip below.
Unsplash + WordPress: the ultimate combo for your blog content
Do you know Unsplash? It is an image library that can be used to illustrate your content. The pictures presented on the site are of very good quality and usually have a great artistic and design approach. They are available under a Creative Common license, i.e. free of rights. The proposed visuals are available in interesting formats and are offered in high resolution. Be careful however to reduce their size and weight before importing them, otherwise it will increase the loading time of your web pages needlessly … The site has more than 120 000 photographers who offer their work for free.
Publishing visual contents easily and quickly: the editor's challenge
Very often, the main challenge for the content creator is to write text content. A content creator can delegate the writing to other service providers, but once their article is delivered, they still have one last mission at the time of integration and publication: finding at least one image, one picture or any visual and uploading it to define which image will be highlighted in the article. Indeed, it is quite rare for an article to be published with no illustration.
The search and selection of a picture on Unsplash is relatively easily, but you will then have to download it, decrease its size and resolution (do not upload a 4Mo picture in your article!!) and embed it on the blog. It might not sound like much, but this same action done every single time you have to post an article can quickly become a burden. The solution: Unsplash x WordPress, directly integrated onto your blog.
With Unsplash for WordPress, it is now easier than ever to search for visuals for your articles and pages in the largest library of royalty-free pictures on the Internet. From the WordPress editor, you can access millions of HD pictures for free, with no strings attached.
Here is a small, non-exhaustive list of the advantages of the Unsplash plugin for WordPress :
one-click integration,
quick intuitive search,
easy insertion of images in articles,
native support of the WordPress media library,
automatic alt descriptions for better accessibility and SEO,
fastest possible image loading time thanks to dynamic image resizing using the Unsplash CDN.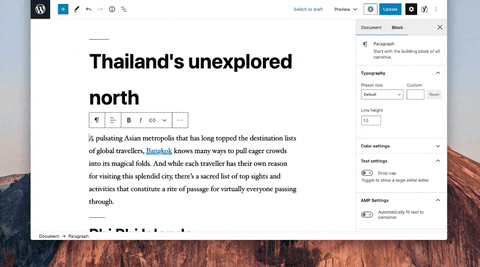 You can download the Unsplash extension on the official WordPress website, or by installing it directly in your blog's administrative panel. Just make sure that your WordPress is updated and is at least on version 5.4.2. If needed, you will just need to update your CMS. Yep, having several sites or blogs can quickly become complicated and maintaining them is often tedious… (Outsourcing their management to specialists like Youdot might be a good idea!).
Youdot's opinion on the Unsplash plugin for WordPress
Saving time in image search, integration and natural referencing. What more could you ask for?